In my back yard there is a garden built on a slope that I've been struggling with since I moved in. Some of the plants there are good, but not many. It was filled with spread-everywhere lilies-of-the-valley, boring pink phlox and some kind of eat-your-yard ladybells. I love hostas, but the ones in this particular garden were nondescript and boring. The peonies are not a color I like, and there was an ugly, sprawling rosebush. Here's a view of it in June 2011, before anything much had bloomed:
Not bad looking, I suppose, but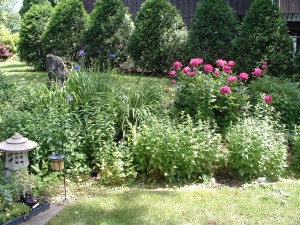 it's just not interesting enough for me. I design gardens carefully, paying attention to details, crafting vignettes, and this garden was a jumble of a few unrelated colors and invasive plants. All I really wanted to keep were the Siberian irises and the peonies. Well, not even the peonies, but I figured I could plant some things around them to ease the shocking effect of the color.
Not so fast, pardner. When I got into working with this area, I found out just what a mess it really was. Continue reading →