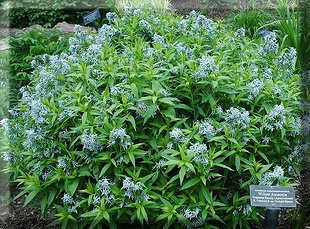 January is usually the month when my mood starts to soar into hypomania. Garden catalogs are arriving, filled with loveliness I want for my garden. I make lists, spreadsheets, drawings. Where can I use amsonia (at right); which variety is best; which nursery has the best price?
No – not this year. Keep looking, keep looking…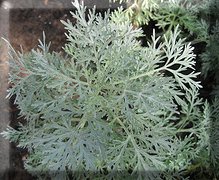 One 'Powis Castle' artemisia (at left) will be perfect to separate two rather garish peonies and soften their magenta color. I'll get that from High Country Gardens. That goes on my "definite" list. So does artemisia 'Seafoam,' which will form the base of a floral waterfall. (I can't afford a real pool with waterfall and fountain, so I'm going to make the image of one with plants.)
Oh how I want those 3 lilies from American Meadows! And that darling little false cypress – chamaecyparis obtusa 'Chabo Yadori' for my collection of dwarf conifers.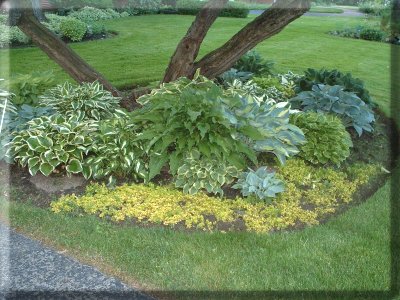 I also collect hostas (there's my old hosta garden at right, from before I moved), and there is one I really want this year, a new dwarf called Fireworks. It's expensive.
Yes, I love variegated foliage, but I don't focus on foliage plants only. I want some new daylilies in soft yellow and salmon, I want the blazing red of geums, Maltese Cross and Oriental poppies. I want another fuschia 'Gartenmeister Bonstedt' – tried to overwinter last year's, but Buzz the cat ate all the leaves off it and it looks pretty damn dead. Dianthus 'Coconut Punch' calls to me. Astilbe 'Straussenfeder' would look glorious in my shade garden. And on and on and on. I've always found it hard to stop.
Last year, even knowing I was having some financial problems, I was caught up in the hypomania and spent over a thousand dollars on plants. It was wonderful!
This year – I can't. The money isn't there. Not only is it not there, but I'm really struggling, dipping deep into savings. To keep myself sane, I've allotted $150 for this year's garden. That means growing things from seed, which is a lot more work and a lot less fun than buying them. And it means there's no hypomania this year. Instead I've felt myself slipping into depression. One of the things I love most – this year it can't happen. There's no point in making huge lists, knowing I'll have to winnow them down to almost nothing.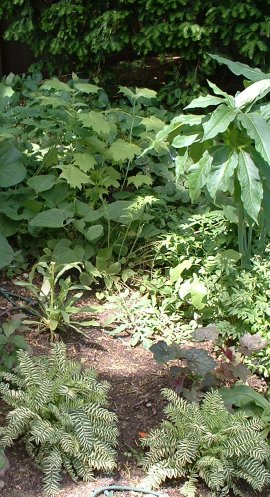 I go through catalog after catalog, not even marking most of the plants that leap off the page saying, "You want me!" I feel like I just shouldn't look at the catalogs, but I can't bear that. I have a little money to spend, after all. But seeds are expensive, too. I've already spent a two-thirds of my $150 on seeds and just the two artemisias. I have $47.27 left to spend.
Bluestone Perennials, the mail-order nursery I was counting on to help me stretch my money this year, has changed itself entirely. For all the years I've shopped with them, they've sold small plants in batches of three, giving me much more for my money than if I'd bought more mature plants. This year – no more. Full size only, at full-size prices. When I realized this, I was so furious I wrote a diatribe on the wall of their Facebook page. Needless to say, that post was gone an hour later when I checked for comments.
Desperation sets in. I start adding things to shopping carts, but I don't check out. I'll have to go back again, and again, and make the orders smaller, or delete them altogether. I can't shop from Plant Delights this year because even though the quality and size of their plants are excellent, their prices are the highest around and their shipping costs are huge.
There's just no way to soften the blow. This year my usual January of glory is a bust. It hurts. Instead of hypomania, I'm sinking into depression.
Coming next: A Shift in Perspective
________________________________________________________________________
Photo Credits:
Amsonia – Chris Kreussling / Flickr
Artemisia 'Powis Castle' – Annethelibrarian / Flickr
Hosta Garden and Polemonium Brise d'Anjou ©2012 by Marcia Purse