In my back yard there is a garden built on a slope that I've been struggling with since I moved in. Some of the plants there are good, but not many. It was filled with spread-everywhere lilies-of-the-valley, boring pink phlox and some kind of eat-your-yard ladybells. I love hostas, but the ones in this particular garden were nondescript and boring. The peonies are not a color I like, and there was an ugly, sprawling rosebush. Here's a view of it in June 2011, before anything much had bloomed:
Not bad looking, I suppose, but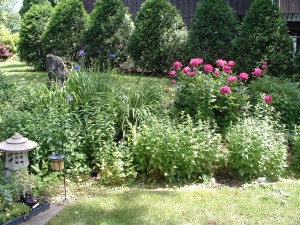 it's just not interesting enough for me. I design gardens carefully, paying attention to details, crafting vignettes, and this garden was a jumble of a few unrelated colors and invasive plants. All I really wanted to keep were the Siberian irises and the peonies. Well, not even the peonies, but I figured I could plant some things around them to ease the shocking effect of the color.
Not so fast, pardner. When I got into working with this area, I found out just what a mess it really was.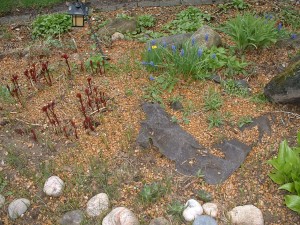 As I found last year, digging in this garden is a bitch. It's not just covered in orange gravel – it's FULL of rocks, and once I started trying to dig out the lilies-of-the-valley and making a place to put an amazing white weeping pea, I hit landscape fabric. Removing that was a bitch. The damn gravel was a nuisance. Even the decorative rocks at the upper edge had to be moved out of the way. Still, I managed to get a lot done last year, taking out the rosebush, some of the boring hostas, and other plants at the top of the slope, putting in brunnera, variegated hostas and the weeping pea.
But there was worse to come. Down the slope and at the bottom are where I wanted to remove all the phlox and ladybells. And my shovel wouldn't go into the ground more than two inches.
I started digging up slabs of rock buried just 2″ below the surface. What the hell? Not only that, but in this area there were stones in the dirt, from thumb-sized to fist-sized. No wonder it was touch to get the shovel to cut through the ground.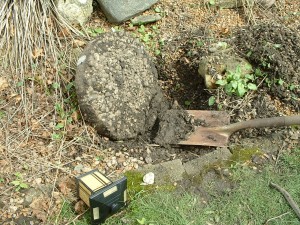 But this year I really want to plant new perennials in that bed, so yesterday I went out there determined to remove some more slabs. Took out a spade and a crowbar. And what I found in the area where I started to work was unbelievable: a circular aggregate concrete stepping stone 24-30″ across and 3″ thick. Who the hell buries a gigantic stepping stone in a garden?
It was too heavy for me to lift, but I was able to manhandle it upright so I can try later to roll it out.
After that, I gave up on digging out the phlox and the ladybells and just hit them with Roundup.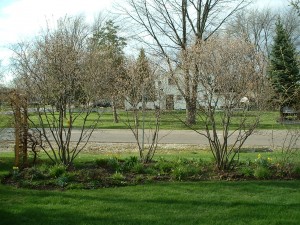 I'd probably already wrenched my back at that point, but did I stop? Nooooo. I went out front and dug up a patch of 'Moonbeam' coreopsis (because I have way too much of it), decided I was done digging and would do the rest another day, and then decided to do something I really wanted to do. So I went and sawed off one trunk of the center serviceberry. I'll eventually take out the entire thing. (Why? First off, they are absolutely boring, with lackluster bloom for about three days. Second, this bed needs more sunlight.) Doing that gave me a real sense of satisfaction.
Finally I sprayed a bunch of grass killer in the island bed between my two driveways and called it a day. Sweaty and tired, I stripped off my filthy clothes and put on a nice long shift. Cooled off nicely.
Oh, and I woke up this morning at 4:00 with my low back screaming bloody murder. Yeah, I overdid it.