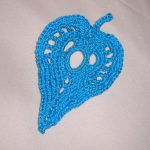 My first original free crochet pattern! I hope you enjoy the Arrowhead Leaf.
At the bottom of the page there is a button that will let you download a PDF of the pattern.
NOTES:
At the end of all rounds, join with sl st under previous chain 1 and pull tight, then loosen loop a bit before ch 1. The first sc of each round then goes into the first sc. Loosening the loop makes it easier to locate the chain 1 for the join.
"Inc" means 2 sc in one stitch.
Ch-4 pattern: Into ch-4 loop, sc 2, ch-4, sc 2 (also described below)
At the end there are two variations with borders for crab stitch or a softer slightly wavy border.