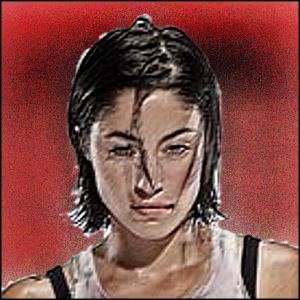 In the end, winning the war against the Slayers had nothing to do with Daloki: she was too ill after being rescued to do much of anything. She was also wracked with guilt for having betrayed her friends and their cause. The fighting went on without her.
Then the Cheshire Cat Tavern and surrounding area suddenly vanished, along with everybody in it. The Slayers' plan to transport them all into a prison went wildly askew, and Dal and the others found themselves on the desert planet called Bahari. It took them a good month to solve Bahari's mysteries and get back to Worlds' Crossing.
During that month Elexin the vampire, his mind damaged, suddenly declared himself in love with Daloki. She didn't believe him for an instant. Still, he was in a terribly confused mental state, so she decided it would be best for him if she played along for the moment. After all, she could enjoy herself while it lasted, right? He was sure to get over it as his mind healed.
While they were gone, Raelin's son Havoc and a mercenary named Tye Sampson took over prosecuting the war. Tye was a brilliant strategist, and Havoc a charismatic General who led the troops himself. They continued to be in charge after Daloki and the others returned – and drove the Slayers away. Hellifyno was left barren and poisoned with anti-magic, but it could be healed – and was.
Elexin's mind also healed, but he did not stop insisting he loved Daloki – and she started to believe him. It was crazy, but when he asked her to marry him, she said yes. The marriage took place in the tavern, with Harry officiating, and almost no witnesses.
Stupid, stupid, stupid.

More of Daloki's Story
Meet Daloki at Rolepages.com.